Hawg Hawlers Awards Dinner
Every fall, Hawg Hawlers Bass Club conducts its annual Awards Dinner.
All members that have fished a minimum of 2 tournaments during the year
are eligible to attend free of charge and are eligible for the attendance prize drawing
(all members that have fished the 2 tournaments, and attend the Banquet, go home with some nice gifts).
The evening includes a catered dinner, a recap of the year's results and activities, recognition for club member accomplishments, presentation of awards to all big bass and first place teams for the year, Top Ten Angler awards, and the coveted Hawg Hawlers Angler of the Year and Big Bass of the Year winners. The evening is capped off with Attendance Prizes and a Raffle Drawing. It's always a good time, and a great opportunity to spend some quality time with your fellow club members - don't miss it!
See below the Agenda, directions and RSVP form
RSVP must be in by Monday, 10/22/2018

AGENDA

Welcome
Club Business
Dinner
Awards
Special Thanks & Recognition
Officers
Question & Answer
Attendance Prize Drawings
Sponsor Recognition
Group Photo
Raffle Drawing

DIRECTIONS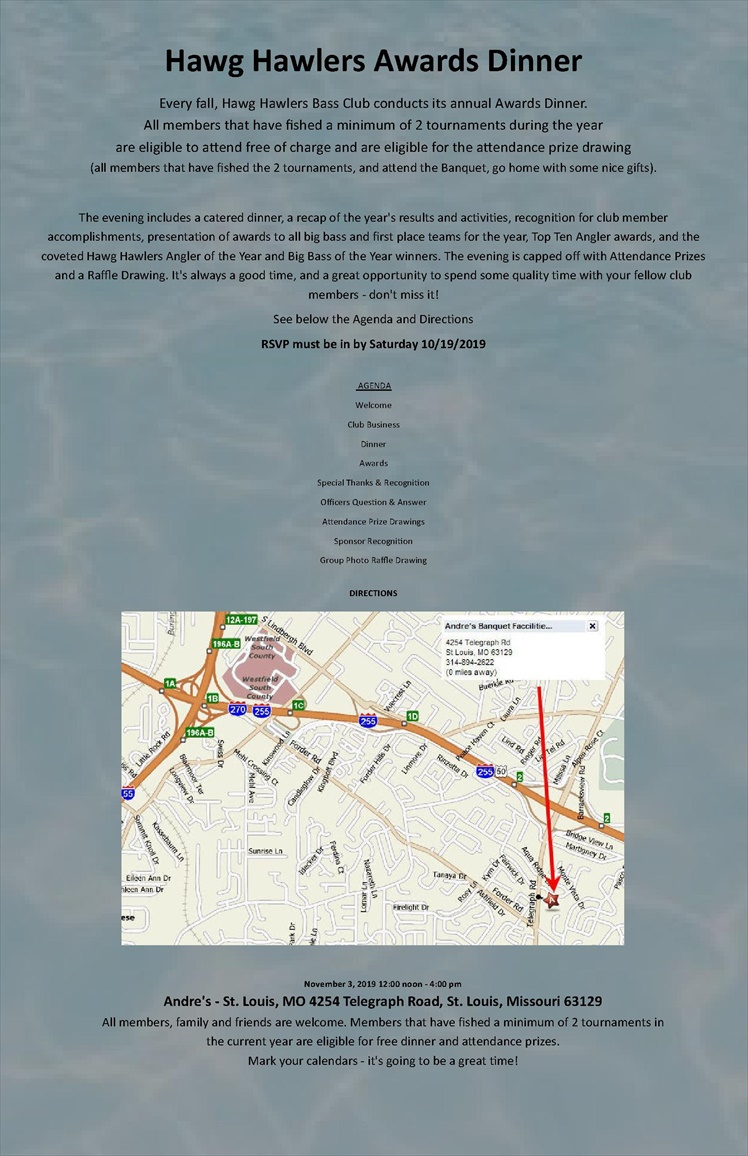 Print & Mail in or Bring to the September or October Tournament
Click
Here
for a printer friendly version
November 4, 2018 12:00 noon - 4:00 pm
Andre's - St. Louis, MO 4254 Telegraph Road, St. Louis, Missouri 63129
All members, family and friends are welcome. Members that have fished a minimum of 2 tournaments in the current year are eligible for free dinner and attendance prizes.
Mark your calendars - it's going to be a great time!